In 1985, Mark Wittig arrived in Medell
í

n, Colombia to teach at the Biblical Seminary of Colombia.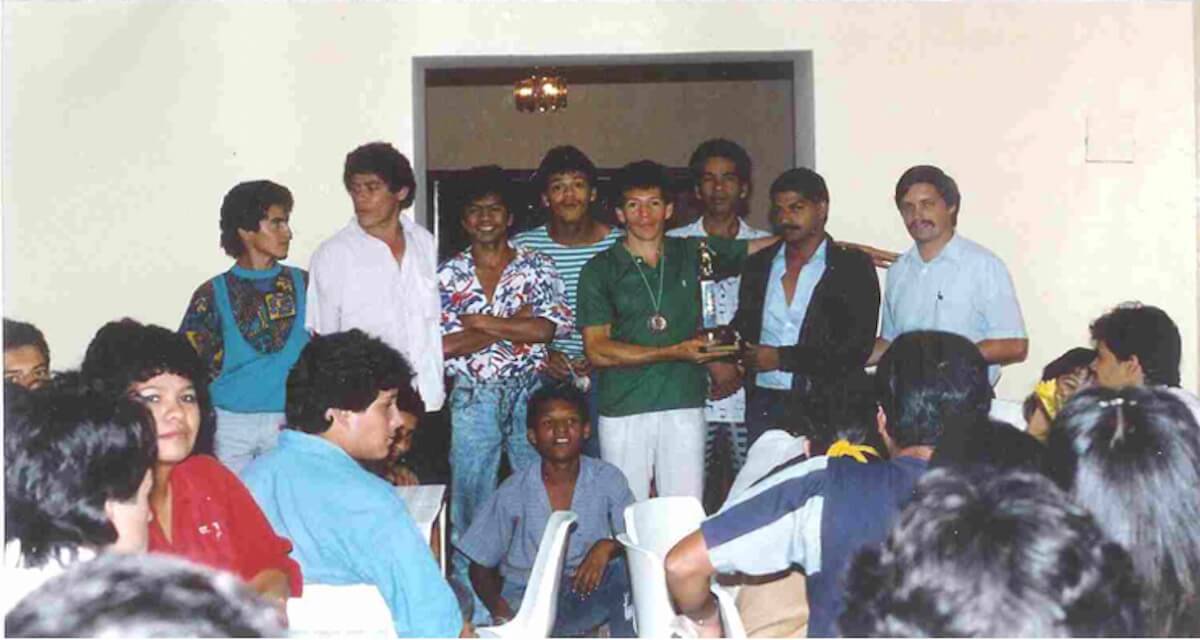 Our first awards banquet for the tournament. Mark is standing on the far right.
He had no idea he was walking into a city of death. 
That very same year, Pablo Escobar and the M-19 guerillas had taken over the Palace of Justice in the capital city of Bogotá, holding over 300 hostages and essentially declaring war on the state. Medellín soon became the homicide capital of the world. In just 15 years, over 90,00 would die, with 90% of those being young men. 
When Mark arrived to teach at the seminary, he was surrounded by young men employed by the cartels, killing and being killed at an alarming rate. He wondered how he could respond to the suffering around him; how he could connect with the hurt and hardened men of Medellín. What could draw their attention away from the money, guns, drugs, and crime that defined their culture and their lives?
Then Mark had a simple idea: soccer. 
One afternoon, Mark walked across the street from the seminary and invited his neighbor to play a game of pick-up soccer. Mark, who had grown up playing in his father's fields, wasn't bad—and the neighbor was impressed with the "gringo's" skills. Slowly, hostilities began to soften into friendships.
As he began to build relationships with more young men in the community, Mark organized a tournament on the seminary grounds. He invited the neighbors to play, and before each match, he shared a devotional. This first tournament opened the doors for a small discipleship group, and amazingly, people came. They began to give their lives to Christ—and they kept playing soccer. 
Mark and his new friends decided to create a soccer school for the youth of the neighborhood, giving young people an alternative to the violence and pain around them. Over the last 35 years, the program has multiplied exponentially. With over 100 teams and 35 full-time coaches, we have impacted the lives of over 40,000 children—and counting.
"Now to him who is able to do immeasurably more than all we ask or imagine, according to his power that is at work within us, to him be glory in the church and in Christ Jesus throughout all generations, forever and ever! Amen."
Ephesians 3:21